Photo: Left - Kolawole| Right - Kolaole's Wife and Boy Friend Udoka Okoro
According to source, the unfortunate happened at Owa-Alero Ika north east of Delta state on Sunday Oct 4th.It was reported that a man simply known Kolawole allegedly caught a male neighbour named Destiny Udoka Okoro in bed with his wife.
In the process fight broke out between them and Udoka bit off the whole lower lip of the husband, Kolawole.
Kolwale was immediately rushed to the hospital for treatment as he was said to be losing so much blood as a result of the bite. The matter has been reported to the Police station and Udoka has been arrested and will soon be charged to court, a police source said.
*WARNING! GRAPHIC PHOTO....VIEWERS DISCRETION IS HIGHLY ADVISED!
Continue after the cut for Photo....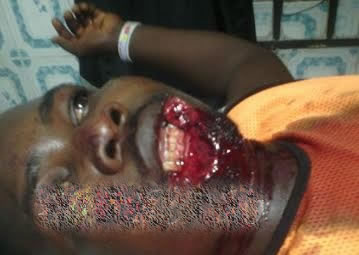 Kolawale
Share your thoughts....thanks!