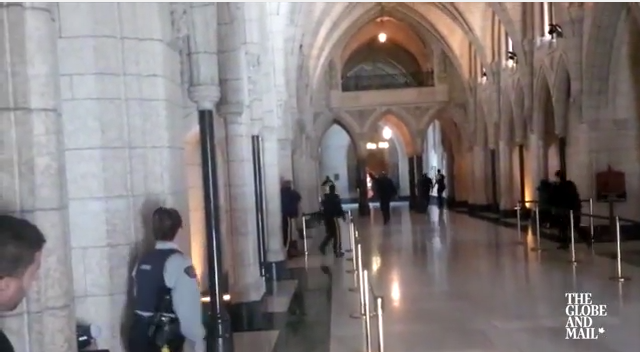 Gunmen struck three locations in Canada's capitol Wednesday morning — the Parliament building, a shopping center and the Canada War Memorial — leaving a soldier shot dead and the nation on alert.
Ottawa police Constable Marc Soucy said a gunman fatally wounded the soldier at Canada's National War Memorial before going to Parliament. Shots were also fired at Rideau Centre Mall, police said, raising questions that there may have been a second shooter involved. All three sites are within a mile from each other.
A member of the Canadian parliament, Bernard Trottier, tweeted that the gunman had been shot and killed. Witnesses reported hearing gunfire inside the Parliament building and said people were evacuating by climbing down scaffolding set up for repairs.
Continue reading after the cut for Video...