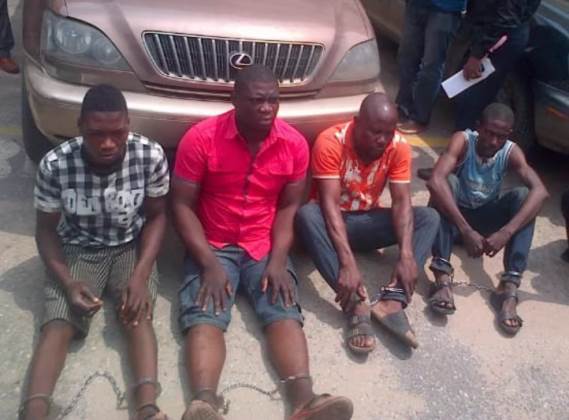 Four suspected members of the gang that attacked two commercial banks in Ikorodu, Lagos State, relived yesterday their bloody exploits, claiming responsibility for other bank robberies.
Monday Omoboye, 39, aka Alarm Blow; Bright Agbojule, 25, Monday Ikuesan, 37, and Promise Abiwa, 20, were paraded by Police Commissioner (CP) Kayode Aderanti.
Their arrests came after soldiers intercepted one of the gang members who had mint notes with bank seals on them.
Following a tip-off by the soldiers in Ondo State to the Lagos CP, the four suspects were rounded up. Two Lexus Sport Utility Vehicles (SUVs) and an Infiniti SUV with registration numbers KRD29DA, 642DQ and EKY641DB were recovered from them.
Continue after the cut for more photos......
The suspects claimed that their 18-man gang, aside raiding the banks in Lekki, Ijede and Ebute (both in Ikorodu), also engaged in pipeline vandalism and illegal bunkering.
Drop a comment...thanks!